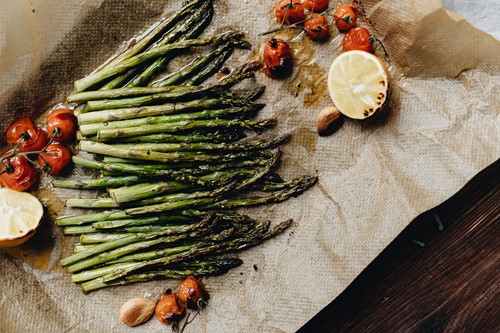 Photo by alleksana from Pexels

This delious spring recipe is perfect for anyone who enjoys grilling. This recipe is tasty, nutritious and if you grill a lot anyway, you'll have the perfect opportunity to prepare vegetables in advance. Charcoal grills produce the best smoke and flavor, but you can grill your vegetables over a gas grill with good results. 
Grilling the Vegetables
Next time you have a cook out or a barbecue, grill some extra vegetables and set them to the side. They'll make the perfect ingredients for this smoky, delicious recipe. 
To prepare your vegetables, clean them thoroughly. Cut down vegetables to bite-sized pieces, then cook the vegetables over a hot, searing grill fire. You can do this either by placing the vegetables in a grilling basket, or by grilling them on a skewer. Grill the vegetables until they've got some soft places, and some blackened parts, but don't over cook. Remember, the vegetables will be finished in the soup. They don't need to be cooked all the way during the grilling step. 
Which vegetables should you use?
Grill whichever vegetables you like. Mushrooms, onions, tomatoes, asparagus and corn on the cob are all excellent choices. If you choose to grill your corn, set the corn cob straight onto the grill and turn the cob occasionally when kernals start to pop. Cut the kernals off the cob later. 
Soup Ingredients
Seasonal grilled vegetables
Vegetable broth - 4 cups
Tomato sauce - 16 ounce can
Salt
Pepper
Italian spices (1-2 teaspoons)
Macaroni pasta (2 cups) 
Instructions
Combine vegetables, broth, sauce, salt, pepper and Italian spices all in one pot. Simmer over medium heat for 15 minutes. 
Cook pasta separately according to instructions on the package.
Combine pasta and soup into a bowl and serve.
Pro Tip
Pasta gets mushy when it sits in liquid for too long. Keep the pasta separate from the soup until it's time to serve. If you've got leftovers after the meal, store the pasta and soup separate in the refrigerator. 
What Should You Serve With Grilled Vegetable Soup?
Grilled vegetable soup is delicious with garlic bread prepared in the oven. Cut up bread in 1 inch slices. Brush each slice with olive oil, then sprinkle with garlic salt. Bake in the oven at 375 degrees Fahrenheit until the edges of the bread turn slightly brown and crispy. Alternatively, you can also bake the bread slices sprinkled with cheese and garlic. 
Want to Make Grilled Vegetable Soup Meatier? Here's How
You can grill any meat at the same time that you're grilling the vegetables, and add that to your soup. Want some suggestions?
Beef tips. Grill beef tips, then cut them up into small bits when it's time to add them to soup. 
Bratwursts. Grill several brats and cut them into 1/2 inch cubes; add them to your soup for a spicy meat option.
Chicken. Grill several chicken cutlets, then shred the cutlets into small pieces and add them to your soup.
Enjoy!